Switzerland/Italy Trip, September, 2008
Tuesday through Thursday, Sep 2-4
We arrived in Zürich with no delays, and the flights went well. I even slept a bit on the flight across the Atlantic. The car trip down to Engelberg went smoothly (I brought my GPS, and it speaks English), and the Waldegg Hotel is just as wonderful as it was two years ago. On Wednesday the sun was shining, so we took the trip up to Mt. Titlis on the cable cars. The glacier has shrunk quite a bit in the past two years, but the ice cave is still there. Wednesday evening we ate a delicious dinner at the hotel. Pat had beef with foie gras and I had swordfish ravioli.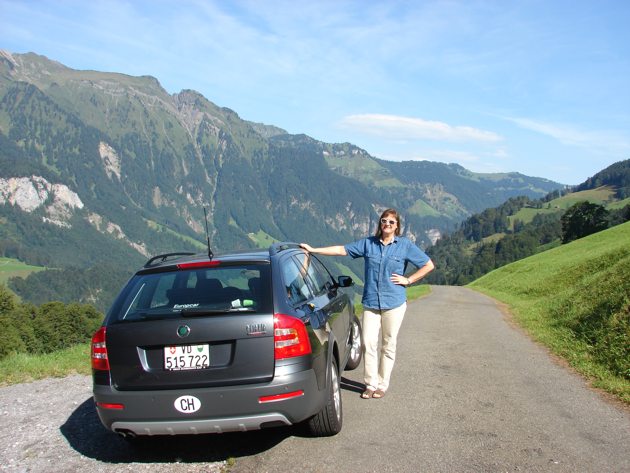 Driving up into Engelberg Valley. We rented an Octavia,
which is just like a Passat wagon
The Solebad (saline pool) is still fantastic and the greatest way to relax as quickly as possible. We had it to ourselves for a couple of hours on Thursday. Pat then went in the sauna, and I stayed in the pool and swam. Deb and Gregg Knapke will be joining us on Saturday and go with us for the rest of the trip. For now we're just planning to relax and unwind in some of the most gorgeous, pristine scenery there is.
We ate dinner Thursday at the Alpenclub, a local favorite. The ceilings were very low. We had veal in mushroom sauce and Rösti (roasted potatoes), which is a very fluffy and tasty version of hash browns. Very delicious. A very large, bear-like, drunk/crazy man came into the restaurant bellowing something in German during dinner. Something about could he get a cup of coffee, yes or no. A petite little waitress showed him briskly to the door.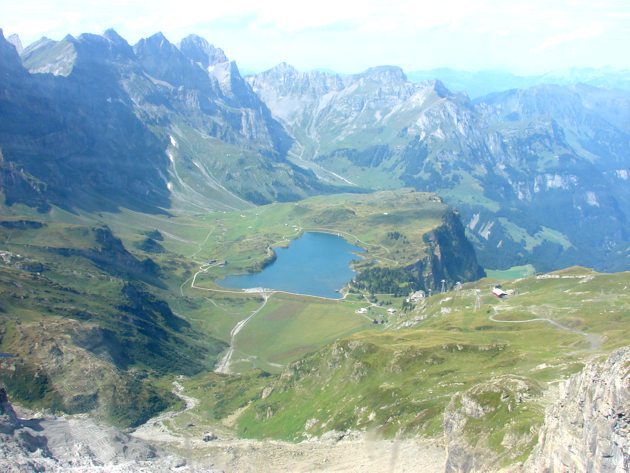 Trübsee, an alpine lake situated up on a 5000+ foot plateau.
This is the view of it from Mt. Titlis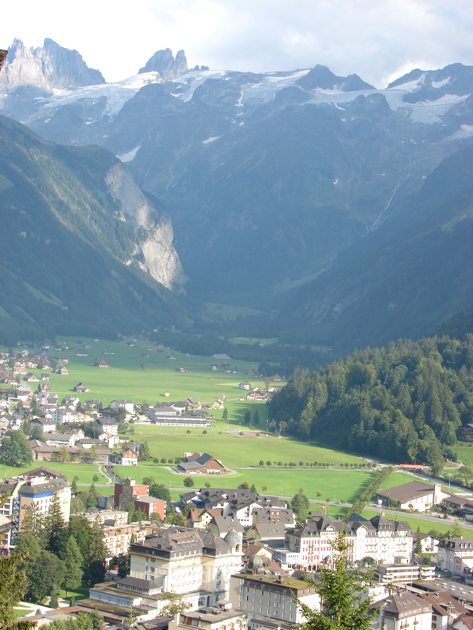 The town of Engelberg, facing south into the Alps